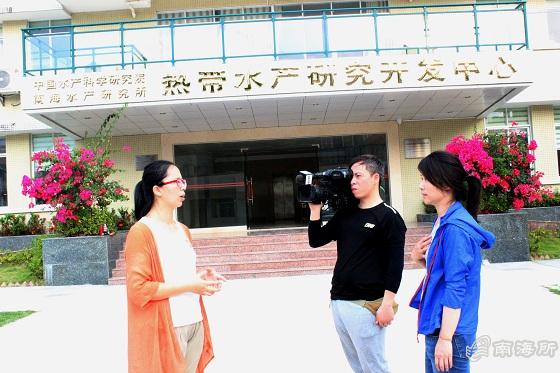 During May 8-11, the crew of CCTV's Show Technology Land interviewed Hu Jing, a young scientist from Tropical Fisheries Research and Development Center, South China Sea Fisheries Research Institute, Chinese Academy of Fishery Sciences, on the breeding of Amphiprion frenatus. Hu Jing introduced the type production, hatching, feed development and fish body color enhancement of A.frenatus, and demonstrated the key links in the breeding process in the field, vividly showing the technical difficulties.
A.frenatus is one of the most important species of tropical marine ornamental fish, also known as the sea anemone, which belongs to Pomacentridae and Amphiprioninae. The traditional taxonomy divides the subfamily from the morphological point of view into the genus Amphiprion and the genus Premna. Because of its beautiful colors and mild temperate nature, as well as the characteristics of vigorous, lively and easy to breed, almost all the marine fish lovers will give priority to it as a breeding variety.
Since 1990s, Tropical Fisheries Research and Development Center has carried out a series of scientific and technological breakthrough in the field of artificial breeding and feed nutrition of A.frenatus,successfully constructing its whole artificial breeding system. After many generations of breeding, many new strains and varieties have been developed, having winning many scientific and technological progress of Hainan Province, making positive contributions to the development of recreational fishery in China.